What does it take to turn a typical small business into a powerful brand? Why do some businesses — with relatively mundane products and services — take off, while others stagnate?
Often it comes down to personality. Or lack thereof.
When Ben Cohen & Jerry Greenfield started selling homemade ice cream out of a renovated gas station in Burlington, Vermont, it was personality and a little extra attitude that helped get the business off the ground .
Jerry said, "If it's not fun, why do it?" Ben said "Every company has a responsibility to give back to the community."  Those two simple ideas became the driving philosophy of the Ben & Jerry's brand.
Over the years they've had a lot of fun with their crazy flavors: First it was Cherry Garcia, named for Jerry Garcia of the Grateful Dead.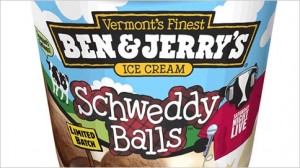 Controversial flavor of the month at Ben & Jerry's
Currently, it's Karmel Sutra. Imagine Whirled Peace. What A Cluster.  Magic Brownie.  Jimmy Fallon's Late Night Snack. And Alec Baldwin's Schweddy Balls, named after a Saturday Night Live character.
There's authentic brand personality in every lick.
Needless to say, some people (including a few franchisees) were offended by the idea of Schweddy Balls on a waffle cone.
But the company's not shy. In fact, you could say that bravery is part of the brand personality.
Ben & Jerry have never been afraid of a little controversy. They decided from the get-go that the company needed to stand for something beyond just making money.  So they built their passion for social and environmental issues into the business model. That, by itself, differentiates their brand from the competition — and from 90% of the corporations out there.
You don't see Baskin Robbins doing Free Cone Day for local charities. Or buying environmentally friendly freezers. Or supporting Fair Trade. Or railing against military spending. Or even occupying wall street. You won't find Haagen Daz supporting a local school fundraiser.